Woman Loses 60 Pounds, Lowers Cholesterol With Plant-Based Diet
Brenda Workman spent most of her life trying to control her weight — losing some pounds with discipline, but then gaining them all back the moment she could no longer resist eating foods high in fat and sugar.
She even worked for a weight-loss organization, leading classes for 27 years before quitting because she "felt like a hypocrite." Workman says she herself couldn't stay on the program for more than eight weeks at a time and ended up yo-yo dieting.
Sweets were always a trigger for overeating.
"If my program said you can have a doughnut and it counts as 12 points, then I would have that doughnut, but before the day was over with, I was spiraling out of control — almost like giving an alcoholic a glass of something and saying here's your limit for the day," Workman, 63, who lives in Princeton, West Virginia, tells TODAY.com.
"I would go back to the doughnuts and need another one. And then maybe before the day was over with, I'd eaten four doughnuts."
Workman, who is 5 feet, 1 inch tall, ended up with a BMI in the obese category. (She asked that her maximum weight not be included in this article because she's still sensitive about it.)
But what really started to worry her was her deteriorating health. She felt lethargic and her joints hurt. She'd had high cholesterol for about 25 years and was taking a statin to control it.
In 2020, she was working in her garden when she felt dizzy. Workman checked her blood pressure just in case and saw it was high. When that high reading persisted for days, she contacted her doctor. He immediately put her on medication to lower her blood pressure. The physician also suggested switching to a plant-based diet.
Almost three years after making the change, Workman says she has lost 60 pounds and no longer needs medicine to lower her blood pressure and cholesterol.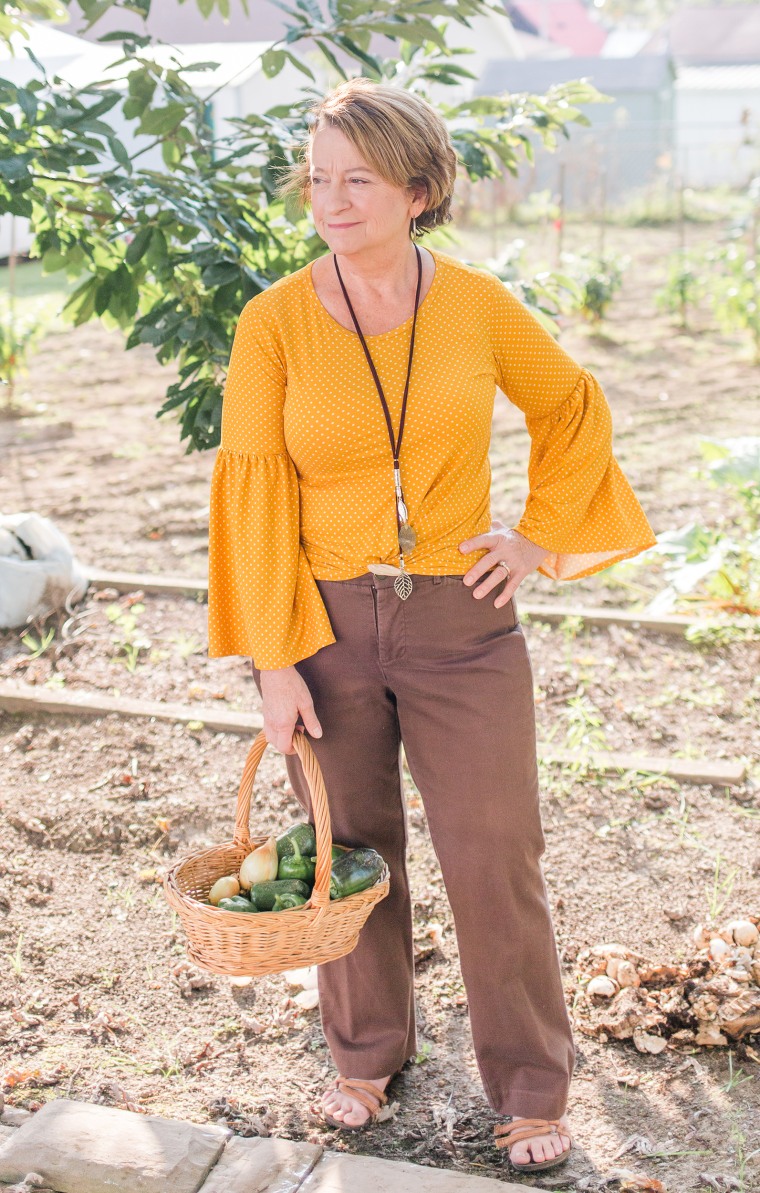 "I cried because I thought I would never be off statin drugs the rest of my life," she recalls.
"A lot of people as they age think, 'It's always going to be this way, I'm just getting old, these chronic diseases are just going to happen. I have to accept it.' And I'm a firm believer now that food really does matter."
Eating a nutritious plant-based diet may lower cardiovascular risk, lowering cholesterol levels and reducing the risk of heart attack, stroke, heart failure, according to studies in the Journal of the American Heart Association.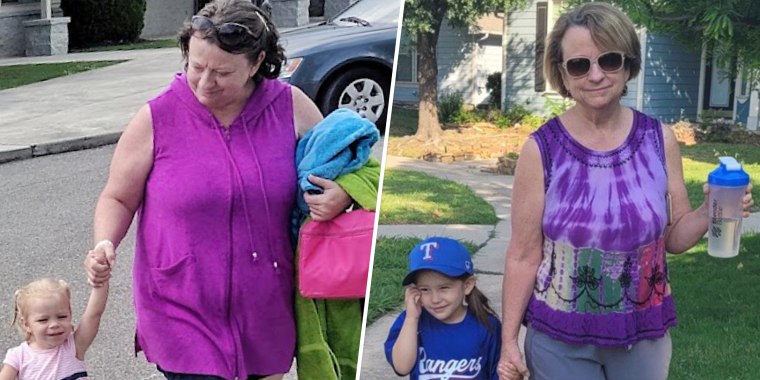 Going vegan
Desperate to avoid heart disease, Workman was fully committed to making the switch to a plant-based diet, but it was an adjustment in the beginning.
"It definitely was a learning curve because I'm an Appalachian girl from West Virginia. I grew up on biscuits and gravy, meat at every meal and sausage and all the things that go with causing obesity," she says.
West Virginia has the highest prevalence of obesity in the U.S., according to the Centers for Disease Control and Prevention. It's also among states with the highest mortality rates from heart disease and diabetes, CDC data shows.
Workman became a vegan, avoiding not just meat, but cheese, eggs and dairy — all animal products. An appropriately planned vegan diet is "healthful, nutritionally adequate and may provide health benefits" including disease prevention, according to the Academy of Nutrition and Dietetics.
Vegans should consider a B12 supplement since that vitamin is only found in animals, nutritionists say.
About two weeks into her new eating routine, she had a close call. Workman had a bad day and decided to stop at Dairy Queen on her way home for a high-fat, high-sugar treat, which she calls her "addiction." But she was able to talk herself out of it.
"I reminded myself that this is not a diet, this is not about weight loss. This is now about your health and is that what you want to do? Do you want to go back to that food that brought you to where you are?" she recalls thinking.
Workman then headed straight home. Eventually, the craving went away.
Plant-based staples
The key to making the switch to a plant-based diet it to experiment with recipes, Workman says.
She didn't like tofu at the beginning, but kept trying different ways to prepare it until she found a recipe that she loved.
Breakfast can consist of oats or a cold cereal with berries on top. She sometimes makes pumpkin muffins as a treat.
Workman tries to eat a big salad for a meal every day, including lots of greens plus roasted potatoes, chickpeas and all kinds of vegetables. "It's just huge," she says.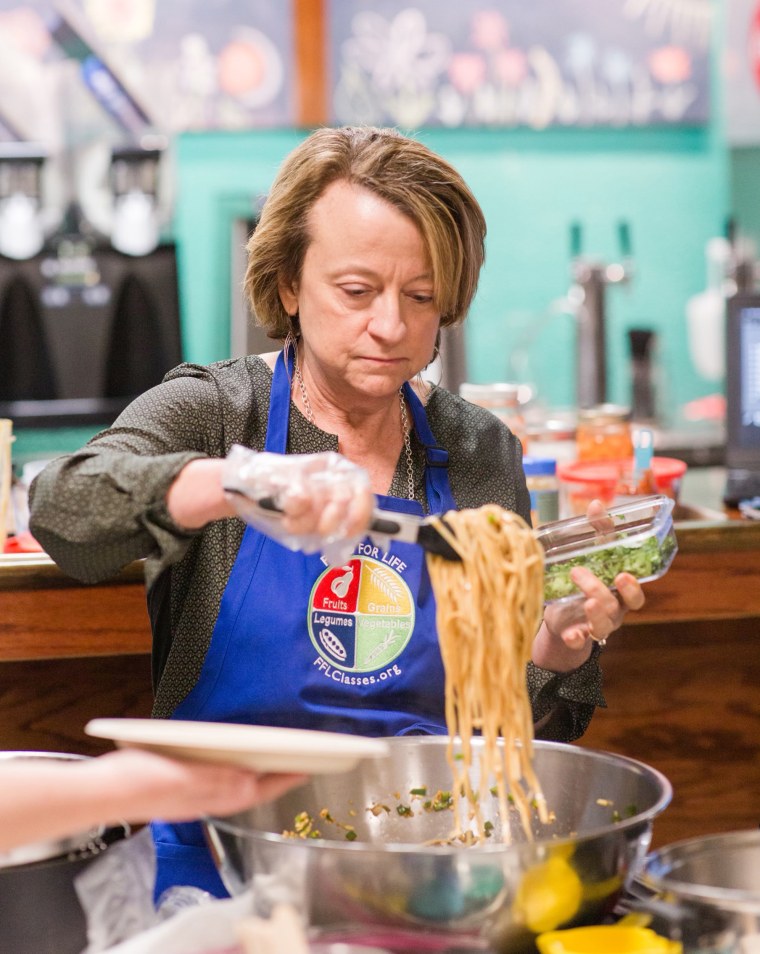 Brown rice with beans is a favorite go-to meal: "When life is busy, I have a rice maker. Just throw that baby on and warm up some beans and put tomatoes and onions on top. That's not hard at all," she says.
The more color and texture a meal has, the more satisfying she finds it. Instead of sugar, she sweetens dishes with dates, raisins, fruits or a bit of maple syrup.
Workman doesn't miss meat or cheese and was surprised to find her previous cravings went away within weeks of switching to a plant-based diet.
"When you eat high-fiber foods, you don't typically binge. So I'm very satisfied after every meal and I don't really think about food now until I get hungry again," she says.
"I'm now putting in my body just stuff that's good for it all the time. And I think my body was finally saying, thank God, you've got some sense and you're giving me what I need."
Please follow and like us: