The Sean Dyche effect: Everton feel immediate benefits in win over Arsenal as new manager makes his mark | Football News
A classic case of new manager bounce? "Yes," said Mikel Arteta following Arsenal's 1-0 loss to Sean Dyche's Everton. "But that shouldn't take credit away from Sean and the team. It's one thing to say it and another thing to do it, and they did it today."
The Arsenal boss was eager to praise his opposite number at Goodison Park on Saturday and rightly so. Yes, Everton had benefitted from the impetus that tends to come with a change of manager. But there was plenty more to the result than that.
This, after all, was an Arsenal side which had not lost a Premier League game in five months. Only twice in that time, against Southampton and Newcastle, had the Premier League leaders even drawn.
Everton needed more than the notion of new manager bounce to overcome them and they got it from Dyche. His arrival in place of Frank Lampard had changed the mood around the team but the victory owed more to his stylistic and tactical adjustments.
FREE TO WATCH: Highlights from Everton's 1-0 win over Arsenal

Intensity increased
The images of Dyche putting his players through a bleep test in one of his first training sessions last week prompted mirth on social media. That he did in shorts, raising two fingers to the freezing conditions, fed into his persona as a no-nonsense taskmaster.
It was not, though, the exercise in whipping players into shape that it was perceived to be. Nor was it a gimmick to underline his authority. "These things are often misconstrued," explained Dyche on Saturday. "It's a measure to gauge where their bodies are at."
Dyche needed to ascertain, in the space of a few days, whether his players could meet certain physical demands. Saturday's game showed why. The increase in intensity was dramatic and Premier League tracking data proved it.
Over the course of the 90 minutes, Everton ran more than three kilometres further than in any other Premier League game all season. Their total of 116.4km was the 13th-highest distance covered by any Premier League side since the start of the campaign.
Dyche's team selection was key to it and it was instructed, at least in part, by the "measures" taken in training.
Demarai Gray had started all but one of Everton's 20 previous Premier League games this season, providing two goals and an assist in his last four appearances, but he did so while running an average of only 9.8km per 90 minutes. He was duly dropped.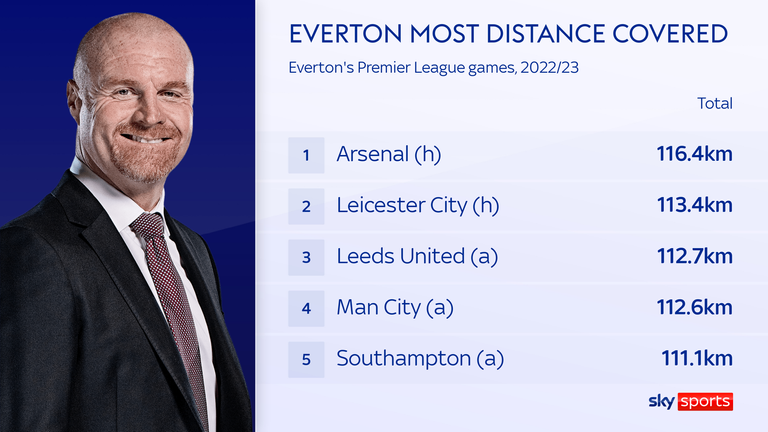 Dwight McNeil, formerly of Burnley, was preferred and covered more than 12km, the second-highest total by any Everton player in any game all season, with Gray watching on from the bench.
McNeil's most notable contribution came in the form of his assist for James Tarkowski's winner, but his off-the-ball industry was just as important. The 23-year-old tracked back diligently on Everton's right, ensuring Seamus Coleman was not isolated against Gabriel Martinelli.
Over on the opposite flank, Alex Iwobi, deployed as a wide player rather than a central midfielder for the first time all season, was similarly selfless, running 11.4km and helping to nullify Bukayo Saka.
In fact, Everton's intensity was evident right across the team – perhaps best typified by Amadou Onana, who ran further than even McNeil, thumping his chest in celebration at successful tackles and clearances – and their energy transmitted to the crowd, whose vociferous support helped drive them on to victory.
Compactness and pressing
Everton's defensive shape was another important factor in the win.
Dyche only had a few days to drill his side on the training pitch but they were noticeably narrower and more compact, the three-man midfield of Onana, Abdoulaye Doucoure and Idrissa Gueye – supported by McNeil and Iwobi, who often tucked inside – working together to reduce space in central areas and force Arsenal wide.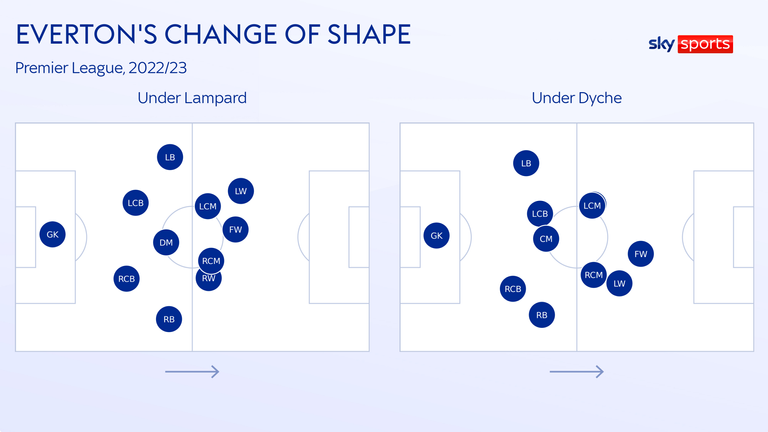 The intention was to limit the influence of Martin Odegaard and it worked.
The Norwegian, heralded as one of the Premier League's best performers this season, had a mere 38 touches before his 77th-minute withdrawal, his second-lowest total of the campaign.
Arsenal could not get the ball to him and the same was true of Eddie Nketiah.
In fact, the striker, scorer of four goals in his previous five Premier League appearances, was even more isolated than Odegaard, getting fewer touches (22) than in any other game this season – and that despite playing the full 90 minutes.
Arsenal's attacking players found themselves with no space to operate, their creativity and goal threat suffering as a result, and on the rare occasions they did get into promising positions, key passes and shots were blocked by blue-shirted defenders.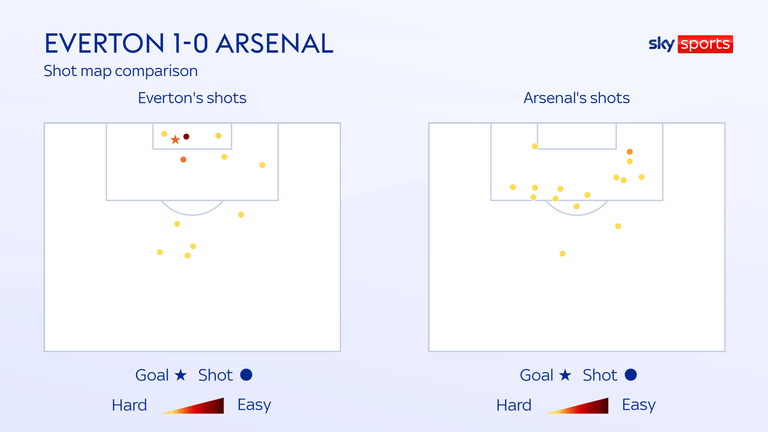 Arsenal's shot map perfectly visualised the way in which Everton kept them at arm's length, with none of their 15 efforts on goal (worth a combined total of just 0.91 expected goals), coming from the centre of the penalty box.
Everton protected Pickford's goal impressively throughout but it was not just a story of heroic last-ditch defending.
In fact it rarely is when it comes to Dyche's teams.
His Burnley side were derided as a throwback by some, but those stereotypes failed to acknowledge that they were routinely one of the Premier League's most effective and aggressive high-pressing sides. The same qualities could be seen in Everton's performance on Saturday.
Dyche's side disrupted Arsenal's build-up play throughout and the pressing mostly took place in the centre of the pitch, where Thomas Partey was stifled to the extent that Arteta chose to take him off before the hour-mark for the first time all season.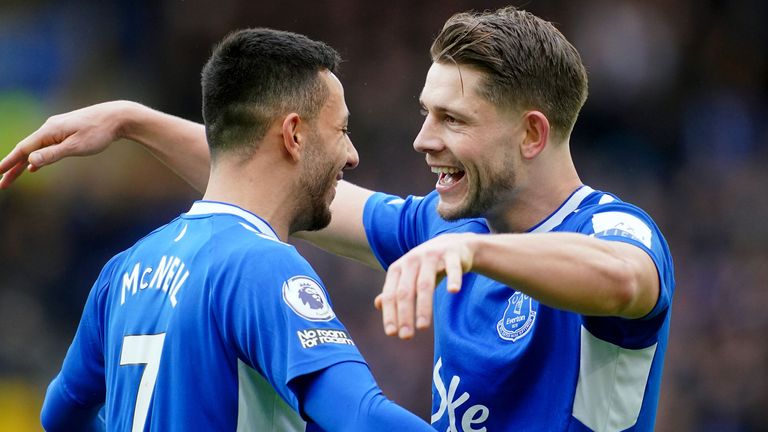 Everton were able to force errors from Arsenal in their defensive third repeatedly and it could be seen in the statistics. The Gunners conceded 11 high turnovers, their second-highest total in any game all season after their meeting with Leeds in October.
They were able to navigate a way through Everton's press at times, but Dyche's men were always quick to fall back into shape, leaving Arsenal frustrated as they tried, and failed, to break them down.
Directness and set-piece threat
Dyche overhauled Everton's approach in possession as well as out of it, switching the emphasis from short to long passing in order to bypass Arsenal's attempts to press them.
The approach made sense given Arsenal's effectiveness in that regard. Arteta's side have forced more high turnovers leading to shots (36) than any other Premier League side this season.
Dyche knew the best way to stop that happening was to eliminate the possibility altogether and it all started with Jordan Pickford.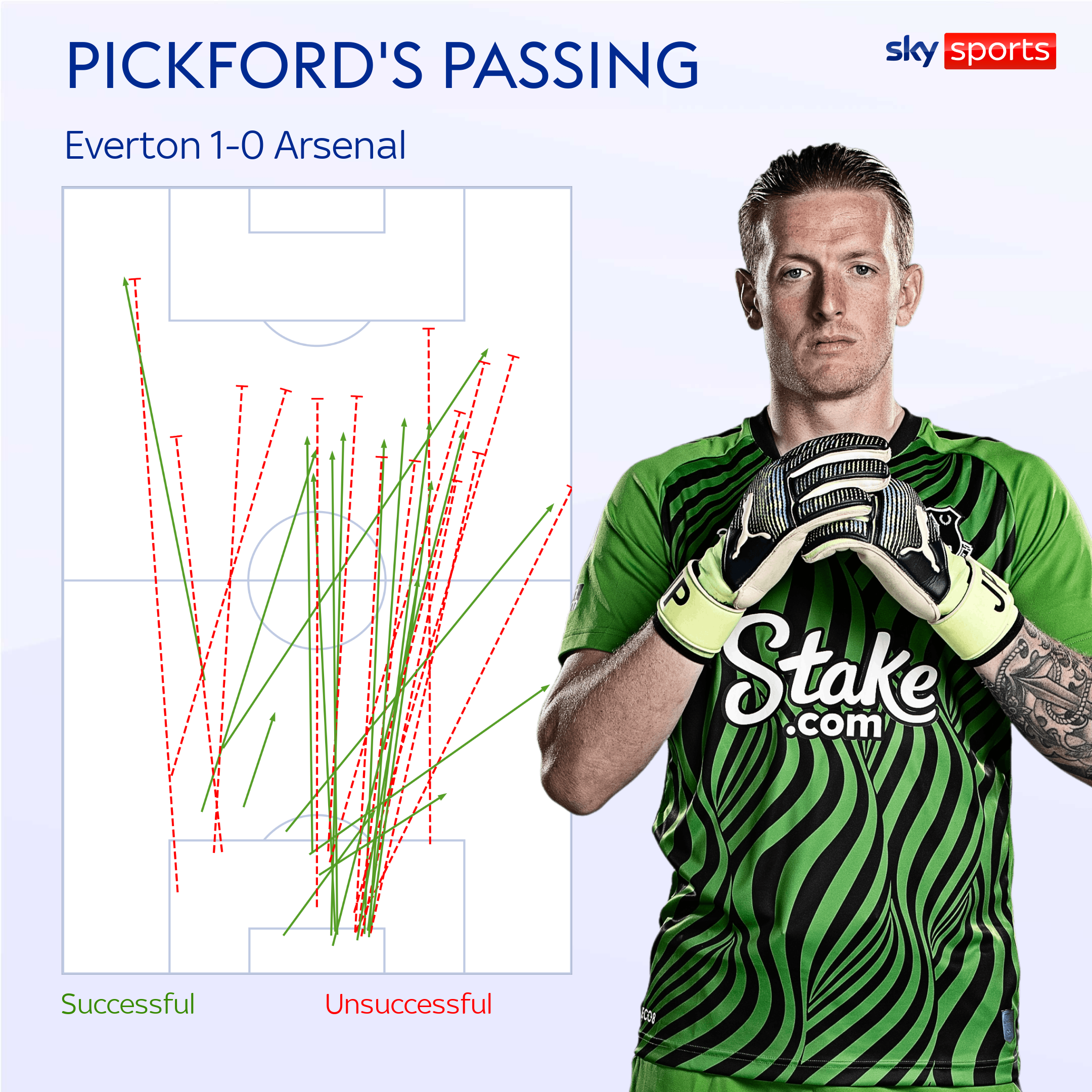 In Everton's last game under Frank Lampard, the 2-0 loss to West Ham at the London Stadium, the goalkeeper sent only 12 of his 29 passes long, a share of 41 per cent. Against Arsenal, however, 29 of his 31 passes were sent long, at 94 per cent.
There were hardly any attempts to play out from the back and the approach also played to the strengths of the man leading the line. Dominic Calvert-Lewin dominated Arsenal's centre-backs, winning six out of eight aerials and nine of his 14 duels in total.
Calvert-Lewin's hold-up play was excellent and, by fielding so many high-energy players in support of him, with McNeil and Iwobi willing runners and Doucoure and Onana also rampaging forward from midfield, Dyche enabled his side to build attacks around him.
Indeed, it was only after he was substituted, the 25-year-old replaced by Neal Maupay soon after Tarkowski headed the decisive goal, that Everton's attacking threat began to lessen.
Dyche hailed the response of his players after Everton's win over Arsenal

The winner also underlined the way in which Dyche placed the emphasis on set-pieces. Everton forced a succession of corners, most of which were directed towards the far post.
The goal came from one such delivery, with Tarkowski rising above Odegaard to head McNeil's corner beyond Ramsdale, and it was clearly a result of Dyche and his coaching team spotting a weakness in Arsenal's defensive set-up in that area.
By the end of the game, Everton had generated an expected goals total of 0.46 from corners – their second-highest of the campaign. Their overall total of 1.67, meanwhile, was their fourth-highest all season and underlined the extent to which they troubled Arsenal from open play as well as dead-ball situations.

Monday 13th February 7:00pm


Kick off 8:00pm

It is, of course, all the more impressive given Arsenal's form. Tarkowski's goal was only the third they had conceded from a set-piece all season, and only their 17th in 20 games in total.
It was achieved with the help of the fresh impetus that follows a change of manager, but, as the defeated Arteta said himself, it was above all down to the adjustments Dyche was able to implement in the space of only a few days.
Everton's trip to Anfield to face Liverpool on Monday Night Football no longer looks as daunting as it might have done. And this time, Dyche will have a full week on the training pitch to prepare.
Watch Liverpool vs Everton live on Sky Sports Premier League from 7pm on Monday Night Football; kick-off 8pm
Please follow and like us: