Hannibal Mejbri interview: Man Utd midfielder on his World Cup, Birmingham loan and proving he could do it in Stoke | Football News
Ask Hannibal Mejbri to name his favourite game since joining Birmingham City and he does not hesitate with his reply. "Stoke," he tells Sky Sports. "I liked that game." His team won 2-1 there in November but it was a symbolic day for him personally.
"I did not know this at the time," the on-loan Manchester United midfielder explains, "but afterwards one of my friends told me that there is a saying in England. 'Can you do it on a cold and rainy night in Stoke?' We won and I gave an assist so I was really happy."
It is precisely the sort of experience that Mejbri was seeking when he traded the comforts of Old Trafford for the challenges of the Championship. Three Premier League appearances for United had given him a taster but he understood that he needed more.
"My games with Birmingham have really been my first with a professional team. I was playing a lot with the U23s. I had a few minutes with the first team at Manchester United but I don't think it was enough to really understand what men's football is.
"Now I understand that every detail is important and you need to work harder. Even if you think you are the best at something, you will find someone who is better than you. That is why you have to work so hard. The Championship is a very hard division."
The expectation when Mejbri joined in August, while still a teenager, was that he would bring technical quality to the midfield. What he has shown since is a willingness to compete, a feistiness to his game that is necessary to survive and thrive in the competition.
Coping with the kicks? "That is what I learned! Now if someone kicks me I have to kick them back!" He is joking. "No, I have to stay in the game and show my quality first. If someone kicks you it is no problem. You have to forget and keep going," he says with a smile.
"I think I have some good technical ability and I can play some good passes. I see things maybe earlier than some other players. But since I am in the Championship, I have seen that I need to work on my physical capabilities. It is making me a better player.
"As a Championship No 8 you have to contest the second balls. You don't really see this dirty work as much in the Premier League, but it is really important in the Championship. If you don't pick up those second balls or win your duels you can feel it straightaway."
Highlights of the seven-goal thriller between Swansea and Birmingham

Mejbri has had to adapt but that desire to compete has always been there, ever since his days playing in Paris with his brother's friends as a boy. "My brother was older than me and he was very physical. Even though I was younger, they did not care," he recalls.
"At the beginning, when you are young, you don't really see what is happening, you are just enjoying the moment, but now I know that it really helped me for my future. They were older than me so physically they were better and so I had to be more aggressive.
"I think that it is part of my game now. Even if people are more physical than me, it just makes me think that I need to be more aggressive to win the ball. Afterwards, I can show my technical abilities. I always wanted to be the best and it started there.
"On those small pitches in Paris, they are free for everyone, but only the best get to play. If you are not the best then you don't stay on. There are only five on a team and you need to be one of them, otherwise you are on the side and you have to work to be the best.
"That is why I think France produces a lot of players."
Mejbri takes on the touch challenge out in Qatar

Mejbri, now 20, represented France at age-group level but was called up for the Tunisia national team in 2021 and chose to commit his international future to the country of his parents' birth. It led to him featuring for Tunisia at the World Cup in Qatar.
"It was a dream come true," he says of his appearance against Denmark. He stayed on the bench for the sensational win over France, one laced with meaning for many of the players. "I really wanted to play so I was a bit sad but it gives me more motivation."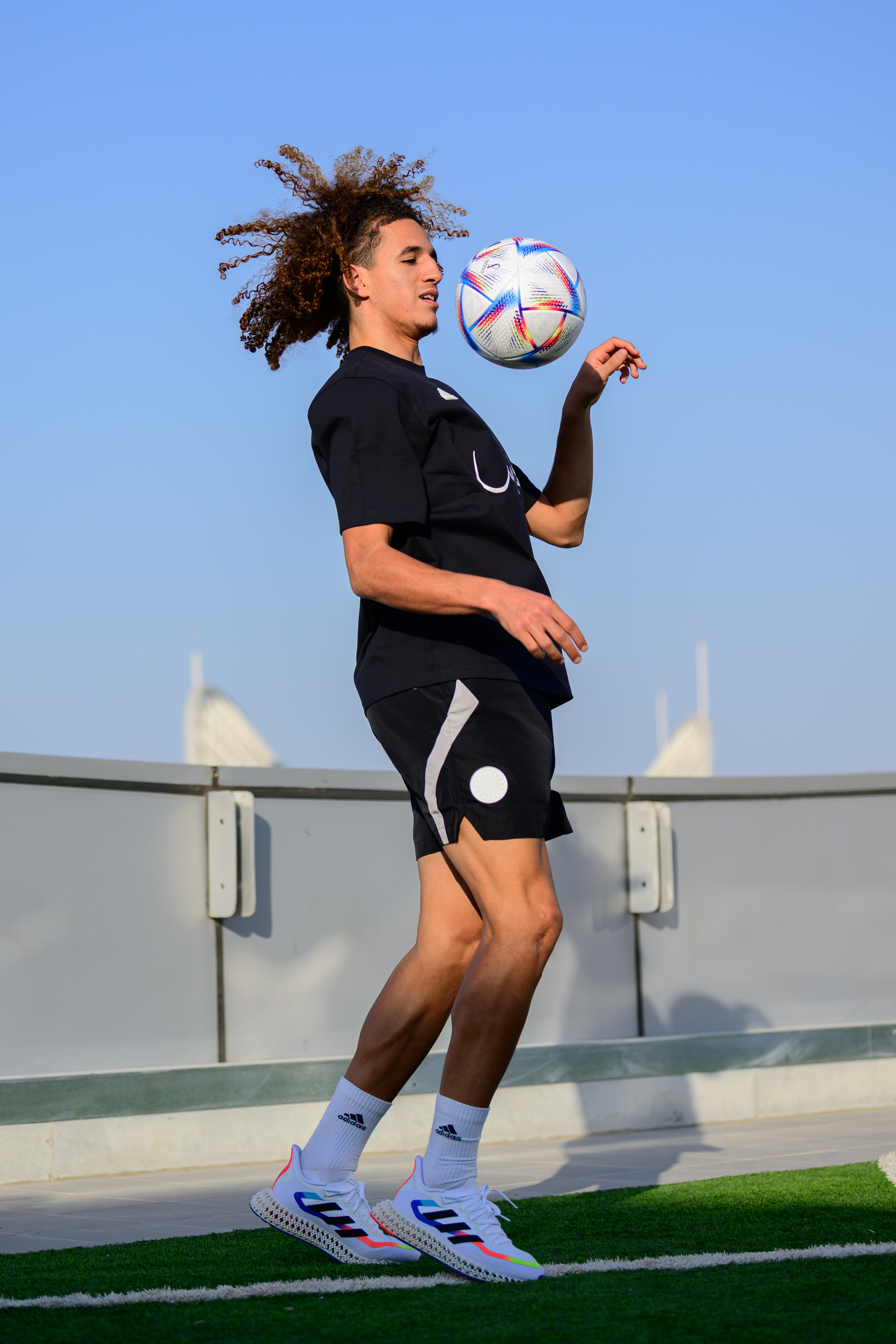 And that choice of Tunisia?
"First of all, it is important to say that it was a personal choice not a family choice. But when people ask me why I chose this team or that team, I just tell them it is my history. I love both of my countries. I had to choose between France and Tunisia, and Tunisia won the battle.
"I hope I am inspiring other young lads with my choice because it is hard. The door was not open before. I hope I have opened the door and lads will think more before they make their choice. Morocco's success helped people to believe African teams can do it too.
"It was nice to see an African team go to the semi-final. It sends a message to the young African players that now African teams are doing good. It is like a 50-50. Before, it was too easy to just choose France or England or the countries like this."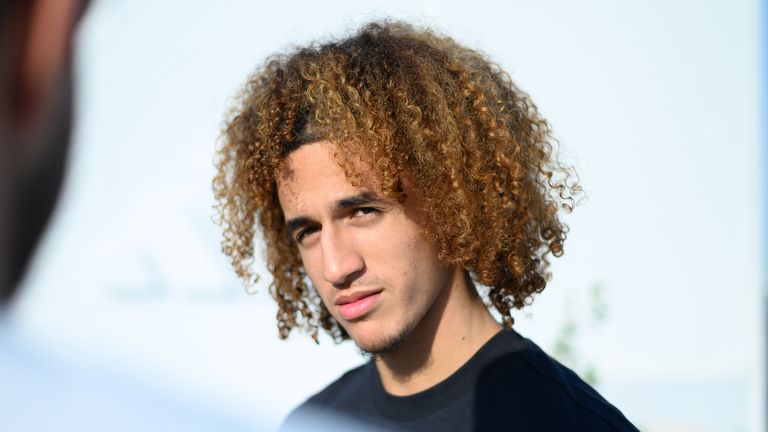 Although he has moved to Birmingham for the duration of his loan move, Mejbri is speaking to Sky Sports in Manchester. A close-knit family, his sister is with him. "Everything I do she helps me, everywhere I go." Joining Manchester United at 16 was a big step.
He recalls the scale of the place. "The building was crazy, something I had not seen before." United had paid a significant fee for him too. That brought scrutiny. "I remember the first week but as the days go by the pressure goes and you show what you can do."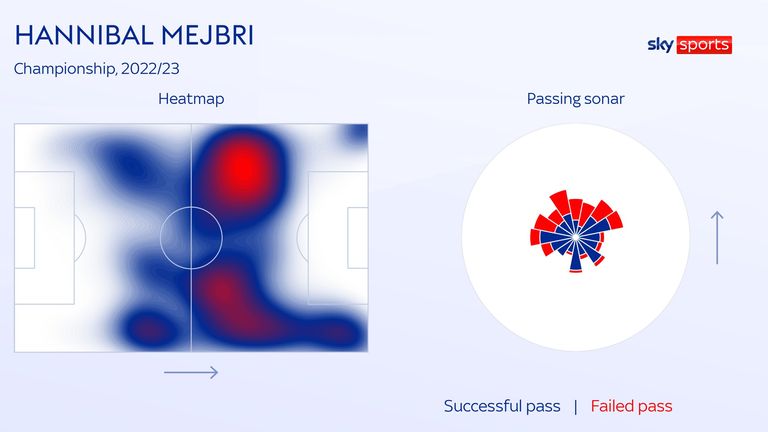 His transfer was complicated by the fact that he had left Monaco some time before completing his United move. "I did not train [with a club] for a long time. I had to keep playing with my brother in Paris just to retain my form. That time helped me a lot."
There were other differences that tested the young Mejbri in ways that he had not anticipated. "In France, we did not really do gym work, we did more technical things, so when I came to England and saw there was a gym, I was surprised," he says.

Friday 10th February 7:30pm


Kick off 8:00pm

"I remember when I had to do my first gym session. It was really hard. I saw the other lads doing everything easily but it was really hard for me. I went back home that night and did some push-ups! I was doing extra to slowly get up to speed with the training."
That was then and this is now. His education continues on cold and rainy nights in Stoke, a World Cup behind him and more adventures ahead. "I will keep learning and keep maturing every day. If I stay clear of injury and keep playing then I know I will progress."
Hannibal wears the new adidas X Speedportal, available from www.adidas.co.uk/football-shoes
Please follow and like us: