Actress Iyabo Ojo parts ways with Princess
Iyabo Ojo, a famous Nollywood actress, has ended her friendship with Princess, her friend and also a colleague in the industry.
Iyabo unfollowed Princess on Instagram due to the interview conducted by Princess with Halima, where Halima laid an allegation of a sex scandal between the Nigerian Clergyman, Apostle Suleman, and Iyabo Ojo.
Halima also mentioned other actresses involved in the matter.
The actress was pissed off following Princess' inability to support her on the matter since she also played a huge role during the latter's daughter's rape case with Nollywood actor Baba Ijesha.
This made Iyabo Ojo unfollow Princess on the photo and video-sharing app.
In a now-deleted post, she said, "o re ni wan… I have learned this in the hardest ways… Never inherit anyone's energy, never risk your life or take a bullet for no one & nobody. Never go beyond and above for anyone. Because when you do& they turn around & stab you… It hurts differently. It's ok to help, but with great caution".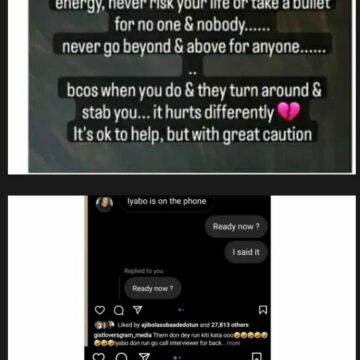 YOU SHOULD NOT MISS THESE HEADLINES FROM NIGERIAN TRIBUNE
Kano Rally Proves Tinubu Has Nothing To Offer — Atiku
The inability of the presidential candidate of the All Progressives Congress (APC) to deliver an inspiring speech to the crowd of supporters that had gathered to hear him speak during Wednesday's rally in Kano shows that he has got nothing to offer.
N77trn Debt: Booby Traps For Incoming Govt, Afenifere, Experts, Others Say
NOTABLE organisations and financial experts on Thursday expressed shock over the revelation by the Director-General, Debt Management Office (DMO), Ms Patience Oniha, that Nigeria's debt might rise to N77 trillion at the expiration of the tenure of President Muhammadu Buhari in May…
How Prince William Knocked Me To The Floor Over Argument On Meghan — Prince Harry
BRITAIN'S Prince Harry has, in a much-awaited memoir which went on sales days early in Spain on Thursday, said his older brother and heir to the throne, Prince William, knocked him to the floor during a 2019 argument over his American wife, Meghan…
NFIU Bans Cash Withdrawals From Government Accounts
THE Nigeria Financial Intelligence Unit (NFIU) has prohibited cash withdrawals from accounts belonging to the federal, state and local governments, as well as Ministries, Departments and Agencies (MDAs)…
Tears As Boundary Adjustment Reawakens Old Hostilities Between Gombe, Adamawa States
The recent communal clash between the Waja and Lunguda communities of Gombe and Adamawa states has reawakened bad blood over boundary adjustment. The Northern Bureau Chief, MUHAMMAD SABIU…
EDITORIAL: Legacy: Buhari's Plea To Nigerians
In his Christmas message last month, President Muhammadu Buhari pleaded with Nigerians of voting age to be wary of candidates who could not move Nigeria forward. Noting that the joyous season of the birth of Jesus Christ coincided with the period of campaigns that would usher in a new administration in the country…
Please follow and like us: